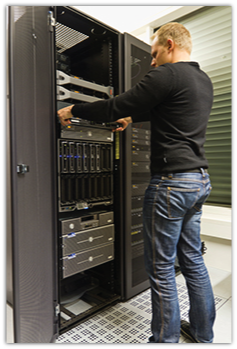 IT Infrastructure
As the IT landscape grows increasingly complex, it also plays a central role in performance. Unifying disparate technologies to drive operational efficiencies is a business requirement. More than best-in-breed solutions, you need best-practice expertise to resolve IT challenges, and leverage business technology to capture business opportunity. You need a partner who knows IT from the infrastructure out.

Turn2 Solutions brings a best-practice approach to every aspect and phase of your technology initiatives — from initial assessment to integration and implementation to ongoing support. We ensure that every asset supports not only your infrastructure but your business goals.
As your single expert source for enterprise-wide solutions, we deliver consistency, accountability and efficiencies that lower your total costs while adding value — and knowledge — to your IT team. We'll make sure that your technology, your process, and your people work together toward a common goal. We offer design assessment, design architecture, system integration and implementation.
Design Assessment
For design assessment, we assume you are looking at new business applications to make your company run more efficiently. We work with your engineers to assess your current infrastructure to see if it's capable of handling any new applications you wish to deploy. We will provide a written report to your group at the end of our assessment that will outline trouble areas, needs of improvement and overall status of your environment.
Design Architecture
For design architecture, we take an array of business factors into consideration when designing your enterprise architecture, including physical constraints, budgetary parameters and operational requirements. Our designs are developed to reduce your downtime as well as your learning curve. We create a custom architecture that respects your skill level, comfort zone, and technological demands. Whether designing your infrastructure from the ground up, or in parallel with an existing infrastructure, we'll make sure your architecture is robust, secure, scalable and simple to maintain.
System Integration & Implementation
For system integration and implementation, we will work directly with your team to come up with a specific plan for every phase of the implementation. Our engineering team, along with yours will lay out how best to deploy the solution with minimized risk and downtime. Beyond a working solution, we will provide you with complete documentation to keep the environment running smoothly. We transfer our knowledge to your team, empowering them to manage and maximize the value of your technology investments.